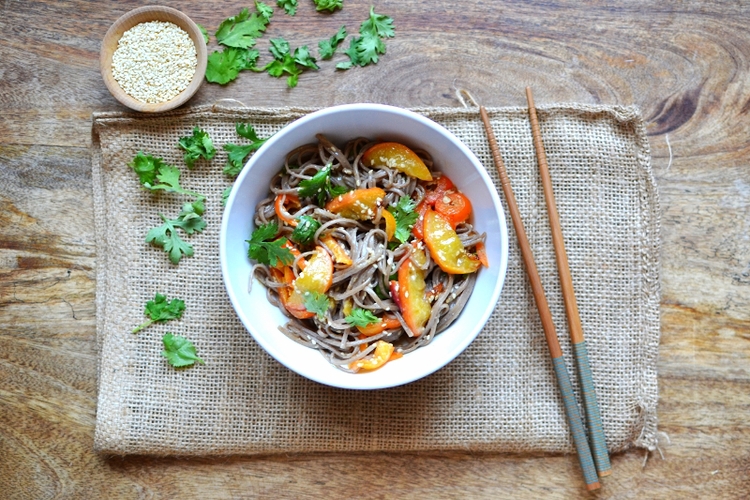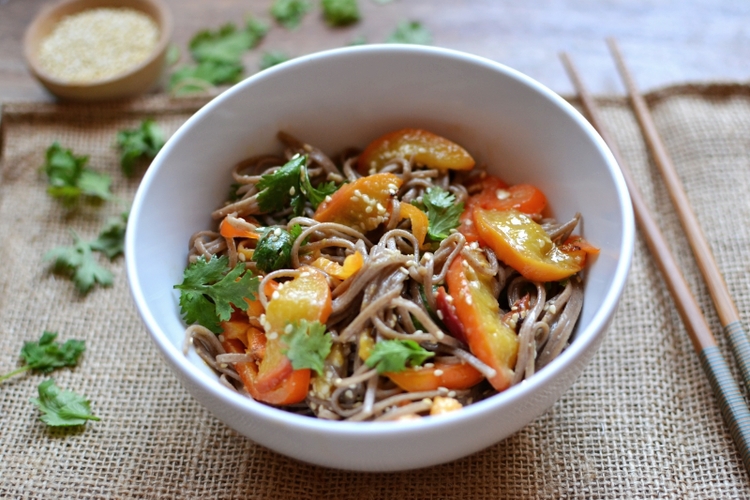 Soba noodle salads are one of my favorite go-tos for a quick meal. They are so fast to make. It's hard to come home at the end of a long day and throw something together that's healthy and scrumptious. You'll be sitting down to devour this recipe in 25 minutes flat, if not faster. The best part of this soba noodle salad is not that it's a quickie, but it's the miso roasted nectarines that will change your life. I know, strong statement, but it will definitely change the way you think of nectarines and give you another way to incorporate them into savory dishes. The nectarines are so flavorful from the miso, sesame oil and honey paste that you can literally just snack on them. So really, I recommend doubling that part of the recipe. The tahini miso dressing is also a wonderful addition to your dressing repertoire. It adds an incredible amount of flavor and can be added to veg, grain salads, green salads, whatever your heart desires! Or in this case, your belly.
Last but definitely not least, soba noodles are made of buckwheat. And buckwheat is a good source of protein, fiber, and manganese. Manganese aids in the absorption of vitamins in which our body needs to function well. I so badly wish I could say that soba noodles are always gluten-free, but they are not. Buckwheat is gluten-free, but soba noodles are often laced with wheat flour. So, if you are avoiding gluten make sure to read the label closely. Also, buckwheat is not even a grain, it is actually a fruit seed.
The last tidbit, if you'd like to add your favorite choice of protein to this recipe, you can also double the ingredients of the miso, sesame oil and honey paste (the first 3 ingredients in the recipe) and use it for that too.
soba noodle salad with miso roasted nectarines & tahini miso dressing
serves 2
ingredients:
1 tablespoon mild yellow miso paste
1 teaspoon sesame oil
1 ½ teaspoons honey
2 nectarines (about 10oz), cut into ¼ in. wedges
2 bundles soba noodles (5 ½ oz, uncooked)
½ cup baby bell peppers, sliced into rounds or if using regular bell peppers sliced thin
2 tablespoons toasted sesame seeds
½ cup cilantro, leaves and tender stems, loosely packed
tahini miso dressing:
2 tablespoons tahini
1 tablespoon mild yellow miso paste
1 ½ teaspoons honey or agave syrup
1 ½ tablespoons lemon juice
1 teaspoon ginger, peeled and grated
2 tablespoons water

Preheat oven to 425°F. Line a baking sheet with parchment paper or aluminum foil. In a medium bowl, whisk miso paste, sesame oil and honey. Add nectarines to bowl and toss to coat well. Transfer nectarines to baking sheet and roast for 8-10 minutes or until soft (not mushy!) and slightly caramelized.
Cook soba noodles according to package directions and rinse under cold water to stop the cooking. Drain well and set aside.
To make the tahini miso dressing, whisk all ingredients except the water until fully incorporated. Slowly add the water and whisk until smooth. Add more water if needed 1 tablespoon at a time to reach desired consistency. Taste and adjust to your liking. You can also add all ingredients to a jar and shake vigorously. It's quite fun.
In a large bowl, toss soba noodles with roasted nectarines, peppers, sesame seeds, cilantro, and dressing.